G2TT's Guide To Donating Items For Our Canine (K-9) Units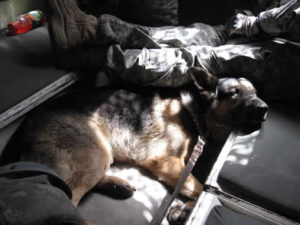 Here is G2TT's list of most requested items which are approved for military K-9 working dog use:
1. Dog Brushes – Furminator™ brand are the most requested and according to the handlers they do the best job). These brushes are expensive, but the handlers love them as they get the dead fur/undercoat out.
 
2. Water bowls  – The kind the troops need are called "Buddy Bowls" (it's a brand name) and they are used when the dogs are on long patrols to make sure the dogs are hydrated. Again, these are a bit expensive, but worth the cost.  
3. Dog beds (larger sizes for German Shepherds) – these are mats the dogs sleep on.
4. Latex Toys  They cannot accept toys made in China, unless the toys are made by Hartz or some other reputable brand. They definitely cannot accept Walmart specials.  Toys must be latex – not vinyl. Tennis balls are not allowed.
5. Snacks and Treats – Such as dog bones, Milk Bone Biscuits and rawhides.  They must be in unopened packages and cannot be made in China.  Most American brands of treats you find in the supermarkets are fine.
6. Dog Shampoo – They need to be unscented as scented kinds will interfere with the dogs' smell.  Brands like Hartz are good.
7. Dog Scales – They need to be type vets use – you can find these online at reasonable costs.
8. Kong toys (and refills) These are made of a very hard (and doggie-approved) rubber that are used by the handlers to reward the dogs for finding something and refills are always in short supply.  The handlers can stick a little treat inside and the dogs will have endless hours playing with the toy until they finally retrieve the treats.  Kong toys can be found in supermarkets and pet stores.
9. Cooling vests for hot months (March through September)  – It gets very hot there so the dogs could use large size cooling vests during day missions.
10. Science Diet and Science Diet ZD Dog Food (DRY).  The dogs are on restricted diets and are NOT allowed any type of canned food.  Except for snacks and treats, the only brand of dog food they may have is Science Diet® (Dry) dog food.