NOTE: DONATIONS ARE NO LONGER ACCEPTED.
OUR MISSION IS TO SEND CARE PACKAGES TO DEPLOYED TROOPS. THAT'S OUR FOCUS. When you give us qualified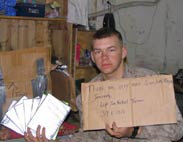 items for our troops, rest assured we will see that your contribution WILL benefit ONLY deployed troops. We do NOT deviate from that policy. Qualified items are listed below.
Give2TheTroops will NOT sell or use your gifts. Rather, we act as your agent to ensure that your gifts get to those YOU want to ps in combat and disaster-relief areas.
Due to our Policies and Regulations, we CANNOT ACCEPT these items:
HOME-BAKED FOOD
GLASS BOTTLES or GLASS JARS
AEROSOL CANS, AEROSOL SPRAYS or any PRESSURIZED CANNISTERS
EXPIRED FOOD
CANNED FOOD
CANDLES, LIGHTERS, MATCHES or LIGHTER FLUID
HOTEL pr AIRLINE SAMPLES
VHS TAPES, CASSETTE TAPES
CONTRABAND ITEMS (live plants, tobacco, alcohol, knives, nudity, etc.)
BOOKS or MUSIC CDS (iTunes® and Amazon.com® are commonly used now)
PRESCRIPTIONS OF ANY KIND (INCLUDING THOSE FOR CANINES)
USED OR STAINED CLOTHING, LINENS, TOILETRIES, TOYS, ETC.
For security and sanitary reasons, please leave all items in their original packages.
When purchasing items, please choose the latest expiration date possible.
FOOD, SNACKS AND DRINKS: (Please – no expired or canned food)
PROTEIN POWDER & PROTEIN BARS (Top request!)
K-CUPS Coffee & Tea for Keurig machines (Top request!)
GREEN TEA
POWDER DRINK MIX (Gatorade, Kool-Aid, Crystal Light)
TUNA & CHICKEN SALAD (in foil pouches, or ready-to-eat kits (no cans)
BEEF JERKY / SLIM JIMS
SUNFLOWER SEEDS & PUMPKIN SEEDS
CHOCOLATE PRODUCTS – Accepted only OCT. through FEB
(it will melt in high temperatures!)
Hard Pretzels / Cheetos / Fritos / Chex Mix / Wheat Thins / Ritz Crackers
Granola Bars / Power Bars / Cereal Bars / Cliff Bars
Fig Newtons, Oreos, Cheese & Crackers – Small Packs
Dried Fruit, Granola, Fruit Roll-Ups / Fruit By The Foot / Fruit Gummies
NUTS: Peanuts, Mixed Nuts (salted preferred)
MICROWAVE FOOD (Chef-Boy-R-Dee, stews, etc.)
COOKIES / Girl Scout Cookies (with chocolate: Oct. – Febrauary only!)
Rice Krispie Treats (Store-bought only)
Little Debbies & Hostess cake products
Cereal (Small, individual boxes)
Condiments, Spices; Sugar; Salad Dressing (no glass jars)
Caffeinated energy gum or candy (to stay alert)
TOILETRIES: NO HOTEL SAMPLES!
(Note: Some troops have allergies & need Brand Name toiletries which list all ingredients. The military issues and/or sells toiletries to our troops, however troops often miss their favorite brand of shampoo or soap. Our goal is to send troops reminders of home & items they miss … not free samples.) BELOW ARE THE ITEMS WE NEED. We've deleted many toiletries we have an abundance of.
SMALL SIZES ONLY, PLEASE!!!!!
Travel-size shampoo & conditioner (no large bottles)
Shaving Cream in Tubes / Shaving Soap (No CANS of Shaving Cream!)
Lip Balm / Chap Stick / Carmex / Blistex
Hand & Body Lotion / Moisturizer (travel size)
Sunblock, SPF 45, Zinc, Vitamin E, Aloe Vera Gel (travel size)
Bug Spray / DEET / Skin-So-Soft
Loufa Sponges / Buff Puffs
Moleskin & Shoe Insole Cushions (gel kind is best)
Tylenol, Motrin, Advil or Aspirin Packets (Please check expiration dates)
Eye Drops (i.e. Visine)
Nasal Spray
Vitamins (These are always needed. Please check expiration dates)
ENTERTAINMENT AND SPORTS:
iTunes® Gift Cards & Amazon.com® Gift Cards (Top request!)
Gift Cards to send home to loved ones (for Restaurants, Supermarkets)
Air Pumps & needles for sports balls (volley balls, soccer balls, foorballs). (Top request!)
DVD Movies (new or used – recent releases only, please!)
Xbox Games, PSP, PS2 & PS3 Games (new or used)
Computer Flash Drives & Thumb Drives
Portable head phones (ear phones)
Electronic handheld games
Small homemade gifts – reminders & comforts of "home"
Small photographs or posters of scenery for their tents & walls
Double-sided tape, small crafts kits, scrap-booking items
Frisbees / Hackey sacks
Yo-Yo's, Dominoes, Poker Chips & Mats, Dice
Board games (UNO, Othello, Checkers – travel size is great, too!)
Dart Boards (regular or magnetic – any size)
Nerf Footballs / Whiffle bats, balls & Mitts / Sports equipment
OTHER:
LINENS: Pillow cases, twin sheets, towels & washcloths (green & tan)
LAUNDRY DETERGENT PACK S/ FABRIC SOFTENER SHEETS: (Click HERE for types)
FLASHLIGHTS – SMALL (battery operated. Surefire Brand preferred)
AIR FRESHENERS (standalone-not plug-in. Car types are also good)
PHONE CARDS – Pre-Paid (Click HERE for Where to Buy and Types of Phone Cards to Buy from Third-Party Vendors)
Holiday and Seasonal Decorations – see our PROGRAMS PAGE for details
Gift Cards to send home to loved ones (for Restaurants, Supermarkets)
SMALL TOYS & SCHOOL SUPPLIES for foreign children
Patriotic knick-knacks, USA flags, flags from your state, bandanas, baseball hats, football jerseys, banners to tack on their walls or tents.
TOOLS (including staple guns & Leathermen), paint brushes, adhesive wall hooks, wall screws, small tool kits, rubber gloves, sponges, unused rags, etc
Dust masks, carpentry tools, Fly swatters, fly paper, mosquito netting, bug repellent in plastic pump bottles only – NO AEROSOL or PRESSURIZED CANS.
Gun cleaning supplies (lube) such as Militec-1 & CLP
Alarm Clocks (Small in size; wind-up or battery-operated)
Small, portable heaters & fans (110 voltage okay)
T-SHIRTS: Cotton green & tan under shirts – new (Sizes: M, L & XL)
[Note: The DOD banned "Under-Armor" shirts due to its material being potentially flammable & bad reactions to open wounds.]
SOCKS: Black, Olive Green, Tan & White (cotton or wool)
Water Bottles, Travel Mugs & Thermoses with Lids (for Coffee, Soup, etc)
Coffee Makers & Filters (110 voltage okay)
Keurig Coffee Machines & "K-Cups" (to be shared)
Coffee Bean Grinders – small (electric or battery-operated)
Microwave Ovens (55 pounds max; 110 voltage okay)
Elixir & Water Purification Tablets for Camelbaks
Combat Application Tourniquets (black only)
Religious booklets, small bibles, inspirational readings(recent, please)
Musical Instruments requested
K-9 items:
Dog chew sticks,, toys, shampoo, flea collars, etc.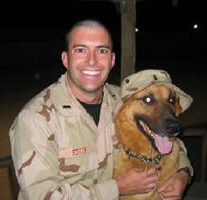 (Note: CLICK HERE to see our restrictions and guidelines if you wish to donate items to the dogs. Thank you.)
CARDS & LETTERS: The troops love to hear from all of us and Mail brightens their days! These are the MOST IMPORTANT items we can send the troops & we can never have too many, so please keep writing! consider making a patriotic banner or poster to send inside one of our care packages!
Note: Our troops do not need stamps as they're in war zones & may send mail home to their loved ones at no charge, but our branches can always use stamps to mail correspondence.