Let's Give our Troops a little RELAXATION, EXERCISE & RECREATION!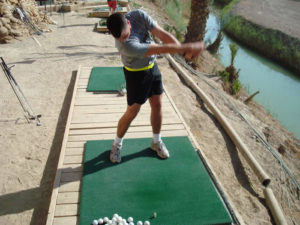 When we started Give2TheTroops, the goal was to do whatever it took to lift the troops' spirits.
If that meant sending over an XBOX system or a wrestling mat, then that's what we did.
As long as our troops felt appreciated and had a boost of morale, we felt our Mission was worthwhile.
Our organization is known for the "special requests care packages" we send. Whether those requests are medical books for the Combat Support Hospitals, items for our canine troops, soccer equipment for local children, religious materials, or other Humanitarian aid items, we will deliver … as long as money keeps coming in for postage and volunteers keep showing up to help!
This mission is a request for GOLF ITEMS!
It started with a few sets of golf clubs back in 2004 when a few sailors wanted to tee off from their ships.
Soon other troops began asking if we could get them golf equipment, turf, tees, balls and clubs. And we delivered! Now, thanks to many donors and volunteers, we've shipped more than 500 golf sets to our deployed
troops and we're giving our troops GOLF GALORE!